Magdalen College, Oxford
oldukphotos.com
Early Days
Daniel Featley (Fairclough) was a Church of England clergyman and religious controversialist, born 5th March 1582 in Charlton-on-Otmoor, Oxfordshire, son of John Fairclough and his wife, Marian Thrift. At the age of seven he became a chorister of Magdalen College, Oxford, where his father was a college servant. His linguistic talent was early noticed when, at the age of twelve, he habitually produced witty and elegant verses in Latin and Greek (Featley, 8) to the delight of many.
Academic career
Featley is noted as a protégé of John Rainolds, who was a leading spokesman for the Puritans. Featley was received as a scholar of Corpus Christi College, and graduated BA in 1601, and then appointed a probationer fellow of the college. He proceeded MA in 1606, and became noted as a disputant and preacher. It was another seven years before Featley took B.D. in 1613.
Appointment to the Translation Committee
At some point after 1604 he was appointed to the first Oxford company of translators, whose work focused on the Major and Minor Prophets of the Old Testament (Isaiah - Malachi). Some have questioned Featley's suitability for the translation task, as he was only in his twenties at the time of appointment. In 1607 he delivered an oration at the funeral of John Rainolds. As Rainolds had been a member of the first Oxford company, it is more than possible that Featley was appointed to fill the breach left by his mentor's death for three years, prior to his departing for the continent. We do not know the measure of attainment he achieved in his Hebrew studies to suit him for the task of Old Testament translation. The chronology suggests his appointment may have motivated him to undertake more formal studies in Hebrew, in order to fulfill his commission. Whichever, we should be well assured that Featley's general linguistic skills were not in doubt.
topnews.in
Experiencing the Continent
In 1610 Featley was recommended to the English ambassador to Paris, Sir Thomas Edmondes, who appointed him as his household chaplain. He spent the three years following in Paris, where he was known as redoubtable in arguing for the protestant cause. He was reported as being despised by the Jesuits for his smallness of stature. Nevertheless, he made up for this by quick repartee, together with an ability to make fine-shaded distinctions when pursuing an argument (Leo, 23). Featley claimed that a local Cardinal had tried to recover him to the Catholic fold, by 'promise of far greater preferments than ever he could expect in England' (D. Featley, Sacra nemesis, the Levites Scourge, 1644, 66).
Labelled an extremist
Theologically, at home Featley was finding disapproval from the mainstream, with his outspoken puritanical views of worship, etcetera. Tact was not his strong suit. He seems to have given offence by his plain speaking, even in consecration sermons. However, for those sharing his theological views, Featley remained a significant figure throughout the first half of the 17th century.
Though he was small of stature, yet he had a great soul, and had all learning compacted in him. (McClure).
In the wake of the Synod of Dort (1618) he also mediated in a number of theological disputes between puritan ministers, and supplied a conciliatory note to the discussion by his prefaces to several influential works.
Among protestant divines in France and the Netherlands he was regarded as one of the leading defenders of the Reformed faith; Leo recalled visiting the University of Groningen and seeing Featley's name in a list of 'the most famous Schoole-men' of the Christian church.



Univeristy of Groningen
alas-groningen.org

It was his misfortune that, having found himself out of favour in the 1630s because of his views on doctrine, Featley then found himself attacked in the 1640s because of his views on church discipline, and was thus denied the recognition his talents deserved.(1)
A convinced Calvinist
Featley was strongly opposed to the Arminian school of theology, which he regarded as dangerously close to semi-Pelagianism and Roman Catholicism. He may have been the 'Oxford man, chaplein to the Archbishop' mentioned for preaching a visitation sermon 'wondrous plainly and vehemently against the fearfull or flattering silence of our Clergie', warning that 'the hope of a crosier staffe or a Cardinalls hatt would make many a Scholler in England beat his braine to reconcile the Church of Rome and England' (BL, Harley MS 389, fol. 318). At King Charles I's first parliament in 1625, Featley was elected a member of convocation, and became the leader of a group of forty-five clergy who agreed among themselves 'to oppose everything that did but savour or scent never so little of Pelagianism or Semi-Pelagianism.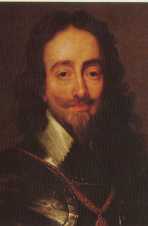 King Charles 1
Surprising comfort to a troubled King
Featley produced a devotional manual entitled Ancilla Pietatis in 1626 which proved very popular, going through six editions with translations into French and other languages - it was a special favourite with Charles I as he struggled to cope with his confrontation with the 'separatists,' who were insisting parliamentary government was wiser than absolute monarchy.
The price of commitment
During the Civil War years Featley landed up in prison for defending episcopal government. He was already in bad health , and the situation hastened his death of asthma and dropsy, in 1645, and he was buried in the chancel of Lambeth church.
Literary achievements
Daniel Featley published as many as forty books and treatises, also leaving a huge number of articles/manuscripts.
His other labors have passed away; "but the word of the Lord," which, as it is believed, he aided in giving to unborn millions, "abideth for ever. McClure

(1) Hunt, Arnold. (2004) Oxford Dictionary of National Biography

This is 45/52 previous next index